Poland
Fundacja Res Publica im. Henryka Krzeczkowskiego
Res Publica Foundation is a cultural think tank publishing Res Publica Nowa journal (liberal intellectual quarterly, member of the Eurozine) with focus on culture, society and politics. In addition it runs its three main programs:
City DNA - debates and civic participation in culture policy planning,
Free Speech Partnership - networking intellectual and cultural journals in the post-societ space (in cooperation with Eurozine),
Central European Dictionary of Political Concepts - seminar, debate and book publishing program.
It is funded independently from various donors and grants with no political party affiliation.
The former Yugoslav Republic of Macedonia
Youth Educational Forum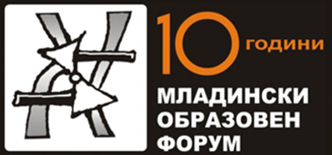 The Civil Association "Youth Educational Forum" (abbreviation - YEF) is a non-governmental, non-partisan and non-profit organization, established in June 1999 under the name "Debaters" succeeding a successful Open Society Program. The organization is involved in the development of Macedonian civil society.
Some examples include involvement in high educational reforms, fight against the corruption in the higher education, protection of students' rights and youth activism on university level. The overall mission of the association is defined as: to offer students, their teachers and parents, opportunities and ways of active and argument based participation in the public discussions.

Italy
Associazione per una cultura e la promozione del dibattito
Opis delovanja organizacije: The newly established organization aims to establish a foundation for the development of debate as a way of educating as well as participating in the public life in Italy. Its aims are: to promote research about theory and practice of argumentation, to promote the diffusion and knowledge about the theory of argumentation and rhetoric and to promote debate as educational tool.
Lithuania
Public Institution Educational Debate Centre

EDC is a non-profit non-governmental organization established in 1999. It is a part of the wider network of debate organizations working under the umbrella organization International Debate Educational Association (IDEA).
EDC works for the creation and the development of an open democratic society through encouraging the young generation of Lithuania to become socially aware and critical citizens. Activities of EDC include seminars and workshops for teachers, supporting the development and creation of debate clubs at schools and universities, organizing public debates and coordinating various national and international projects for youth.
Romania
Asociatia Romana pentru Gandire si Oratorie
Opis delovanja organizacije: ARGO runs one of the biggest and most successful debate clubs in Romania. We gather students from a wide range of High-Schools at the ARGO Debating Club in Ploiesti. The club also cooperates with the high-schools in projects that promote deliberative education in the classroom.
ARGO also coordinates national and international projects, runs an annual debate camp for high-school and university students on current topics, organizes debate competitions for advanced and beginner students and educates teachers on the ways to integrate debate into the school curricula.