Evaluation questionnaire now available HERE

.
The project aims to connect organizations that share the belief in the importance of critical dialogue and recognize teaching debate skills as a powerful tool of informal learning on a wider European scale. The project applicants believe that European topics are not integrated in the school curricula in the way that they would appeal to the young individuals on the level of their personal interest and are therefore determined to integrate these topics into forms of informal learning.

The event therefore targets high school students and their trainers. The proposed project consists of intensive cooperation in the process of event preparations and culminates in four days intensive exchange of opinions connected to themes important for development of students into inclusive, informed, and critical young Europeans. While the event contains elements of competitiveness, the process behind it promotes learning of different skills connected to critical advocacy. The students will prepare pros and cons to the topics in advance (prepared rounds) and for the thematic field in general (impromptu rounds – one hour preparations).
They will have the opportunity to exchange opinions through the web page of the applicant organization, which will be upgraded to accommodate the needs of creating a trans-European network of young individuals and trainers. The event itself will consist of two elements: debating about a series of six topics connected to the idea of Europe and its current affairs and of social activities which will contribute to understanding of the different cultures in Europe.
While the event is primarily targeted to equip students with tools of critical advocacy (strengthening their argumentation skills, the ability to critically evaluate all sides of a given problem, strengthening their public speaking skills) and strengthening the knowledge of processes of EU integration it will also facilitate the need of trainers to expand their knowledge and share their experience in methodological aspect of debate.
The themes will highlight the challenges with which the EU is faced today. The wider thematic field will cover the challenges high lightened in the Year for combating poverty and social exclusion, challenges of immigration and wider topics covering the principles of European values and identity.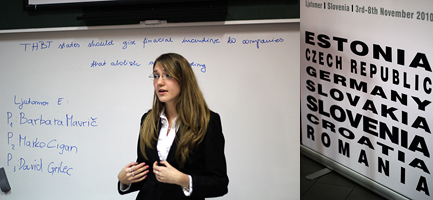 The main events which will happen within the project are:
round table discussion with experts in multimedia center Kibla in Maribor;
open forum discussion at one of the high schools in Maribor;
debate tournament in Ljutomer,
3 workshops – exchange of best practice;
multicultural night;
study visits to different institutions.

Leading applicant:
ZIP, Za in proti, zavod za kulturo dialoga/Pro et contra, institute for culture of dialogue, Slovenia,
Partners:
HDD, Hrvatsko debatno društvo, Croatia,
ADK, Asociace debatnich klubu, o.s., Czech Republik
EDS, Estonian Debating Society, Estonia,
DSG, Debating society Germany, Germany
ARGO, Associatia Romana pentru Gandire si Oratorie, Romania,
SDA, Slovak Debate Association, Slovakia.
Project schedule